Posters
Double Exposure is nothing but inserting a photo inside another. You can see it on many posters of films and covers of CD photos. Since the famous HBO series "True Detective" premiered using the "double exposure" effect, it has become a repeated ad nauseam resource. Generally, the photos were taken with a Conon Rebel T3 or something similar in monochrome mode, because that way it becomes easier to work then. Below are some double exposure samples for your use.
In addition to Poster designs and tattoo art, Double exposure has witnessed the rise in photography. Even BAFTA is not an exception for that. Here they commissioned Hungarian illustrator Levente Szabo' to create five cover artworks. Use These Poster Templates to Create eye caching Posters in no time.
Black and White Double Exposure Poster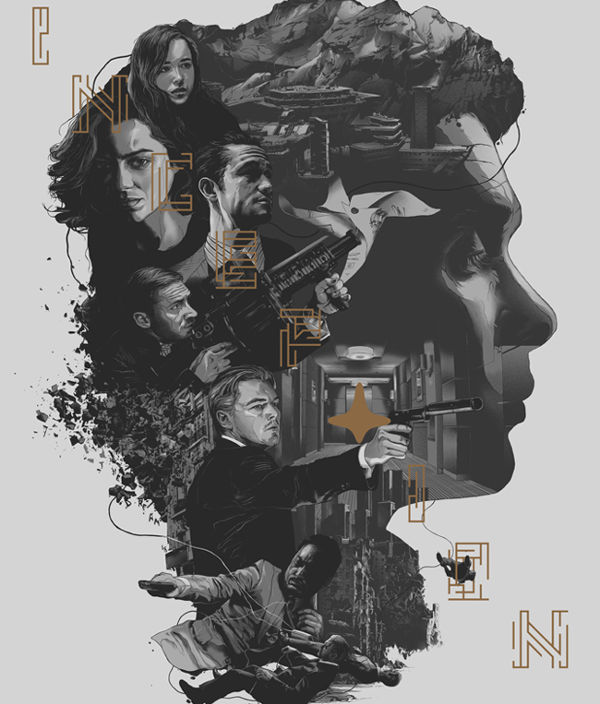 This was inspired by Christopher Nolan's famous film "Inception" that stars Leonardo Di Capro. The has been made in two color versions and sizes 24×36. The work has been done in Adobe Photoshop.
Double Exposure Poster for Promotion
This is incredibly strong. The faces are absolutely appropriate. The photographer conveyed 100 stories in one image. You can also try something with this inspiration. But if you get pictures from other digital sources, do not forget to name them.
Simple Double Exposure Poster
The question of rights sometimes makes the art of photography very complicated. This is really tricky. And in each country, there will be some legal opinions. Whatsoever, this is a strong combination of different views.
Double Exposure Poster
Here the photographer pays a personal tribute to paul walker – the Hollywood superstar who died in an accident. RIP Paul. This is an iconic example of double exposure poster.
Graphic Design Moonish Poster
This dark and moonish urban poster come trough a masked girl silhouette who showcases cities, stars, and a sleeping background. Get creative with these models. You can use this to promote fusion music festivals.
Summer Party Poster Template
This Summer Party Poster Template is another prototype that mirrors Double Exposure Photography. The fully layered PSD file sizes 4×6 (4.25×6.25) with bleed. It cost $6. You can use this for art festivals and for photo exhibitions.
Double Exposure Landscape Poster
This Double Exposure Landscape Poster has been created for Gry Wojenne short film by Widzimy To. Now you can plagiarize the double exposure effect through photoshop without much knowledge.
Double Exposure Poster Template
Humanize Poster with Double Exposure
Double Exposure Gaming Poster
Creative Double Exposure Poster
Alternate Double Exposure Movie Poster
10 Double Exposure Posters
Double Exposure Photoshop Poster
Double Exposure Poster Tutorial
Keep in mind that you have to find the fusion modes that work best, depending on the image. Choose at least two photos to form the background composition. That way you will get more depth. Hope you like the above twofold. Learn from them. They give your practice a life.
More in Posters
6+ Action Movie Posters – Free PSD, Vector, EPS Format Download …5+ Minimalist Movie Posters 20+ Movie Posters – Free PSD, AI, Vector EPS Format Download …40+ Best Serigraph Posters with Amazing Graphics Free …17+ Billboard Mockups – Free PSD, AI, Vector, EPS Format …6+ Indoor Billboard Mockups – PSD, Indesign, AI Format Download …22+ Advertising Mockups – Free PDF, PSD Format Download Free …9+ Design Company Brochures – Editable PSD, AI, Vector EPS …